Slow Food Vermont's Snail of Approval is awarded to those restaurants, bars, food and beverage artisans, stores, and markets that contribute to the quality, authenticity, and sustainability of Vermont's food supply and have been deemed outstanding among peers.
Snail of Approval Awardees
All Souls makes serious corn tortillas.
As they say, "a true tortilla is nothing more than whole corn steeped in water with lime, stone ground, and cooked over fire."
All Souls uses locally-grown organic heirloom corn and the traditional process of stone-grinding nixtamal into fresh masa for the best-tasting most nutritious tortillas. They source heirloom corn (Wapsie Valley) from Aurora Farm in Charlotte, VT as well as Lakeview Organic Grain in Penn Yan, NY.
From their tortilla press and oven to their millstones, most everything in their shop is purpose built by hand.
Look out for their new digs in Burlington's Old North End in late fall, 2018!
Chef Doug Paine garners his second Snail of Approval Award and we couldn't be more proud of his Slow Food commitment! Bleu is an inspiration here in Vermont, where some may have their doubts on how a seafood restaurant could responsibly source their ingredients in our landlocked state of Vermont, but Doug has taken his role of artisan chef to a new level, through forming strong relationships with his producers, and bringing the focus of Bleu's menu to the Northeast sea shed as a whole. His strong commitment to the restaurant's sourcing is displayed both in his personal relationships with his producers, as well as in the continually changing menu, based on seasonal availability. In addition to the focus on quality of ingredients, there is a passionate community engagement, both within the restaurant's walls and beyond. The staff at Bleu are motivated to grow their careers through extensive training, open communication and encouraging creativity in the kitchen to craft their own specials. Moreover, Chef Doug will frequent fishing trips with his producers; engage the younger population through hosting Junior Iron Chef events; and he also helps to represent Vermont at Slow Fish, an international biennial Slow Food conference promoting sustainable fishing practices worldwide. Thank you for all you do for Slow Food, Chef Doug Paine and the crew at Bleu!
We have long known that Lara & Steve Atkins were Slow Food champions, but hadn't had the pleasure of putting that notion to the test until our site visit this year for Snail of Approval. From the second you walk in the door to a warm welcome, you know you are about to participate in something very special. The very feel of the historic Governor Chittenden residence that houses The Kitchen Table Bistro is one that is inviting you to sit not just at any table, but at the table of someone who has prepared a very special meal just for you. It is at once homey, intimate, elegant and there's a feel of camaraderie from the shared experience among all who dine side-by-side in the small rooms that create the dining area. The ingredients used are sourced locally from farmers and purveyors, most of whom the Atkins' have long-standing relationships that evolve into friendships over time. To say that they "know their food and their farmer" is a way of life for the Atkins', not just a trend. We are so proud to welcome our most recent additions to the Snail of Approval family – good, clean & fair dining at The Kitchen Table Bistro is a Slow Food member's dream!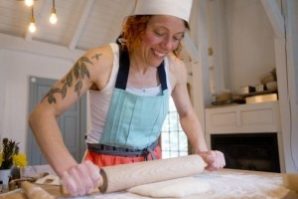 Heike grew up in Germany, and fell in love with hearty whole grain breads, seeking out the best loaves from artisan bakers in her area, eventually apprenticing at Biodynamic bakeries in Berlin. Today, she is that baker discriminating eaters seek out! Heike bakes all of her traditional German loaves by hand using her own levain made from freshly milled organic whole wheat, rye and spelt flours. The loaves are slow fermented, baked in her wood-fired oven in her farmhouse in Fairfax, and delivered twice weekly, with her pastries being delivered only one day a week. Heike's devotion to flour, salt, water and yeast are second only to the passion you can taste in her incredible loaves made in the good, clean & fair tradition of Slow Food. Heike holds many classes a year sharing her technique with eager students. We are so proud to have her be a part of the Snail of Approval family!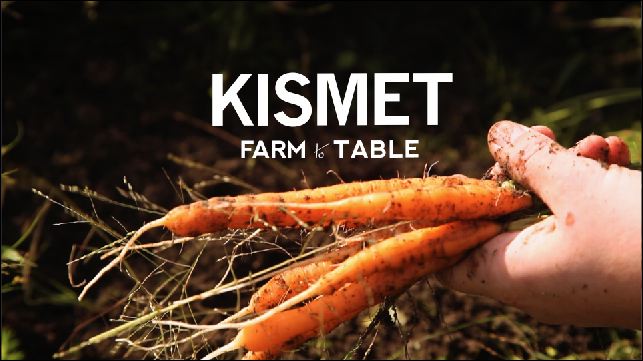 KISMET means fate, or good karma. This is the heart of owner Crystal Madiera's philosophy, and is in the food that she hopes will nurture and inspire a whole community. KISMET is a farm to table restaurant, chef owned and operated since 2006. The menus are created with whole foods and we are proud to accommodate special diets including vegan, paleo, and gluten free. We are so proud to add Kismet to our roster of excellent Slow Food restaurants!
The Williamsville Eatery is a place to gather and relax with friends and neighbors around quality regional food and drinks, in a beautiful former general store, rich with history.
They are surrounded by small-scale farms, and this unique position inspires them to support these local producers by using as much of their produce, meats, grains and beverages as possible.
The unique setting of the general store lends itself to a feeling of natural conviviality, gathering, and celebration. We are proud to add Williamsville Eatery to our roster of excellent Slow Food establishments!
Misery Loves Company has had a swift and illustrious career, with several food enthusiasts claiming it as their favorite food joint around, and they are not alone. Chefs Aaron Josinsky, Nate Wade and their crew have such an attention to detail and interesting repertoire that going to their restaurant is always a taste adventure. We are so proud to welcome them into the family of Good, Clean & Fair restaurants with their Snail of Approval award.
Known for its strong, unique flavor that's been used in spirits and foods for centuries, the juniper berry is the perfect inspiration for Juniper Bar, their ingredient-driven cocktail bar, specializing in mixology and Vermont distilled spirits and brews. Their evening menu is a celebration of individual and community effort, of small local producers growing and raising food, brewing beer, distilling spirits, and making wine. Farms, breweries, bakeries, distilleries, and gardens are not only scattered across our rural state, they're also right here within Burlington's city limits. Chef Doug Paine is passionate about serving the most local, seasonal food possible, and is one of the most good, clean & fair options where you can possibly eat in Burlington!
Eden Orchards and Eden Ice Cider began on a trip to Montreal in 2006 when Eleanor & Albert Leger first tasted ice cider and wondered why nobody was making it on our side of the border. They had dreamed for years of working together on a farm in the Northeast Kingdom; it was a dream that had vague outlines including an apple orchard, cider and fermentation of some sort. In April 2007, they bought an abandoned dairy farm in West Charleston, Vermont, and got to work. Since then they have planted over 1,000 apple trees, created 5 vintages of Eden Vermont Ice Ciders, and have introduced a new line of Orleans Aperitif Ciders. Their goals to create healthy soils and trees in their own orchard, to support Vermont apple orchard partners who do the same, to minimize their carbon footprint, to contribute to the economic and environmental health of their employees and Northeast Kingdom community, and most of all to make world-class unique ciders that truly reflect our Vermont terroir are all the reasons why it was a perfect fit to add Eden Ice Ciders to the Snail of Approval list of Awardees! They were also most recently delegates to Slow Food's Conference of World Food Communities – Terra Madre in Turin, Italy, where they showcased ciders of the Northeast to over 200,000 attendees!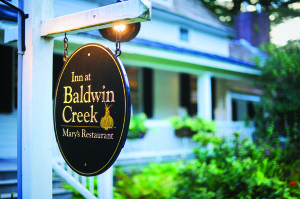 Since 1983 chef–owner Doug Mack has offered farm to table menus emphasizing all local products at Mary's. Much of the acclaimed restaurant's produce is sourced on-site from the Inn's greenhouse and farm. According to Mack, "Farm–fresh food from our own on-site farm as well as other small, local farms is the framework upon which our culinary magic is built. You can follow the seasons of our gardens by the ingredients on our menu. We are delighted to receive the Snail of Approval from Slow Food Vermont, because at Mary's we have always believed in the concepts of good, clean, and fair."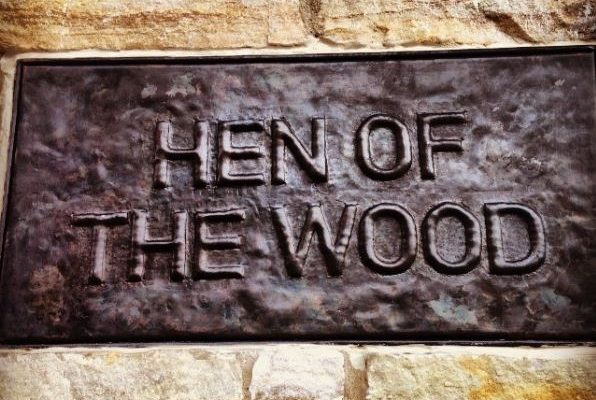 When owners Eric Warnstedt and Will McNeil opened Hen of the Wood in Burlington in 2013, we knew it would be something special, since their flagship location in Waterbury was our first Snail of Approval awardee. Chef Jordan Ware's relationships with everyone at all levels of the restaurant staff, producers, purveyors – everyone – is palpable. All who are connected to Hen of the Wood – Burlington feel that they are part of a tight-knit tribe. This attention to detail extends to the food, the beverages, the service, the decor, the charcuterie, the paper goods, the cleaning supplies – absolutely everything. It's this kind of consideration and care that we like to highlight in our awardees – they truly understand that good, clean and fair should extend to all realms of their business. We are extremely proud to have Hen of the Wood-Burlington join the family of Snail of Approval awardees!
Chef/Owner Eric Warnstedt has long been praised as one of Vermont's most celebrated chefs, heading up one of the region's most honest farm-to-table restaurants. Hen of the Wood Restaurant in Waitsfield, Vermont was the first restaurant to receive the Snail of Approval from Slow Food Vermont. Eric Warnstedt and William McNeil opened Hen of the Wood in 2005. Their goal was to provide a true Vermont dining experience and showcase the region's foods. Receiving high scores on our site visit in all the categories of Good, Clean & Fair, it was no surprise to Slow Food Vermont members that Hen of the Wood garnered the Snail of Approval Award of Excellence in 2013.
Nomination and Application Process
Download the full Snail of Approval Nomination and Award Guidelines
Nominate a Vermont restaurant or business for Snail of Approval.

Slow Food Vermont members are encouraged to educate the nominee about the Snail of Approval program.
Restaurants/businesses that are owned or managed by Slow Food members may nominate themselves.
 

Nomination forms are submitted to the Slow Food Vermont Snail of Approval Committee.
 
Nominees are contacted, at which point they may decide to proceed with the application.
 
Applicants submit their application and $50 fee to Slow Food Vermont.
 
A three-person Snail of Approval Committee evaluates applications and performs a site visit and evaluation of the restaurant or business.

All Snail of Approval Committee members are Slow Food Vermont members and include at least one Board member and one 'content expert' for the type of business under evaluation (i.e. chef, baker, sommelier, etc).
The committee makes a recommendation to the Slow Food Vermont Board of Directors to approve or deny the application based on the evaluation score. For more on scoring, see the Snail of Approval Nomination and Award Guidelines.
 

The Slow Food Vermont Board of Directors votes to approve the Snail of Approval Committee's recommendation.
 
Applicants are notified along with next steps for receiving the Snail of Approval. Applicants that are not approved are sent a detailed explanation.
 
Awardees receive the Snail of Approval public relations package. This includes a press release, decals and certificate to display, and access to the Snail of Approval logo for business websites and promotional materials.
 
Awardees are listed on Slow Food Vermont's Snail of Approval webpage and encouraged to team up with Slow Food Vermont on an annual special event (fundraising dinner, tasting event, etc).
Monitoring and Renewal Process
Slow Food Vermont monitors the integrity of Snail of Approval restaurants and artisans through ongoing feedback from Slow Food Vermont members.
Snail of Approval certification is valid for two years; renewal follows the initial process in the form of a renewal questionnaire and follow-up.
Applicants re-applying after 2 years do not have to pay the $50 fee.
Snail of Approval Nomination Form
Slow Food Vermont invites our members to nominate a restaurant or business that exemplifies the Slow Food values of Good, Clean, and Fair—you may nominate yourself. We look forward to hearing from you!
You must be a Slow Food member in order to submit a nomination. Become a member.
If you receive the Snail of Approval, we look forward to partnering with you on events and encourage you to educate your staff about the award and Slow Food in general. Here's a brief overview that you can share with your team.