Learning to Cook Real Pho (in Montpelier)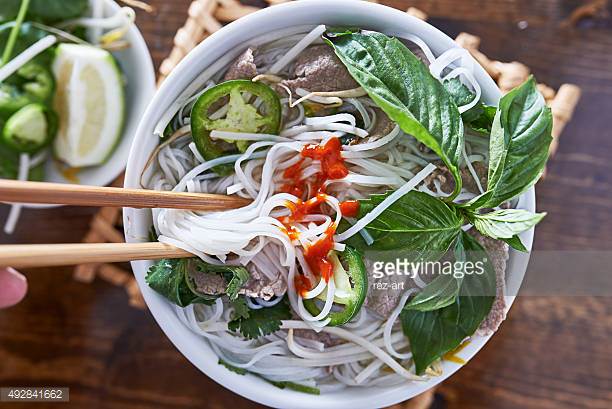 I am a native Californian who discovered pho – the herbal, slightly sweet broth-based noodle soup that's eaten for breakfast and lunch in Vietnamese communities – in her college years. I learned to crave the combination of meaty bone broth, slippery-soft rice noodles, a ménage of
unfamiliar cow parts both gristly and tender, topped with a tangle of bright green herbs, lime juice, and crisp bean sprouts. In short, I wanted all pho, all the time. And from Long Beach to San Francisco, California has no shortage of places to find pho.
And then I moved to Vermont. At first, I was sure I'd have to give up my love of pho for the time being, or at least figure out how to make my own. Then I discovered Burlington's beloved Vietnamese restaurants. They produce tasty bowls of pho, but sometimes I felt like I was slurping broth prepared with a few too many shortcuts – a sprinkle of MSG here, a touch
of powdered herbs there. The dedicated localvore in me questioned the provenance of the herbs, the sprouts, and, especially, the meat. I asked my husband, "Why can't I just find a really good, homemade bowl of pho, made with local ingredients and good-quality meat?" I'm no elitist or snob: I'm simply a decent home cook. Just as I don't use powdered mixes or "flavor enhancers" at home, I also don't want to pay for shortcut food when I'm eating out.
This explains why I was so excited to learn that Pamela Root, owner of popular café That's Life Soup in Montpelier, was offering a pho cooking class in partnership with Slow Food Vermont (an organization whose board I joined in November). I realized that this might be my chance to finally taste a bowl of home-cooked pho without having to travel to Vietnam.
On a frigid Monday afternoon, temperatures having risen slightly from that morning's sub-zero temperatures, nine of us were welcomed into Root's warm, cozy kitchen. The class started off with an introduction to Root's own principles of good cooking, much of it based on nutritional advice following the teachings of Weston A. Price. Passionate about exploring traditional world cuisines, Root learned to cook pho from three Vietnamese women she met in Vermont; she subsequently spent nine months working with them to perfect her recipe.
First and foremost, Root taught us that pho is an incredibly complicated soup. Its broth contains a mixture of chicken and beef bone broths, one of which is steeped in a spice mixture including star anise, cinnamon, cloves, peppercorns, and rock sugar for two to three days, finished off with scrapings from the marrow bones and a good helping of rendered chicken fat, known in traditional Jewish cuisine as schmaltz, before it's poured over rice noodles and topped with a variety of fresh herbs. With Root guiding us step by step, we learned how to make traditional bone broths, both chicken and beef, following the Weston Price technique, which includes white vinegar to draw out additional nutrients and enzymes from the bones.
Some in our group were so fond of the schmaltz that they suggested we prepare the crispy shallots that top the soup – as Root says, one of her restaurant's crowd-pleasers for both staff and customers alike – in schmaltz instead of Root's usual canola oil. The resulting shallots, which came out crispy, golden, and savory, were indeed addictive.
Finally, Root taught us how to put all the elements of the soup together, a time-consuming and detailed process. Along the way, she entertained us with stories of her childhood in East Aurora, New York; her grandmother's cooking; and her 16 years as head of distribution at Ben & Jerry's. Brief takeaway lessons included which brands of Vietnamese rice noodles and fish sauce to buy, which kitchen scraps to set aside for stock-making, and how to wash herbs properly: "treat them like flowers." (I'll definitely bring home her tip of handling them delicately and refreshing them for several hours in ice-cold water before using them in salads or garnishes.)
Three hours later, as the group enjoyed steaming bowls of pho topped with crispy shallots and made sour, salty, and spicy with the addition of lime juice and hot sauce, we could see why Root and the staff of That's Life Soup dedicate much of their walk-in space each week to the storage and preparation of the bone broths, as well making the soup the star attraction each "Pho Phriday."
I came away from Pam's workshop with not only a better understanding of the nutritional and restorative qualities of this near-medicinal soup, but an appreciation for the qualities, flavors, and benefits released during long, slow, thoughtful cooking. I'm not so sure I can return to my old pho takeout haunts anytime soon. In fact, I'm collecting soup bones, stockpiling onion skins and carrot tops, and waiting for the next sub-zero weekend so I can attempt to try my own version of Pam Root's pho.
That's Life Soup
41 Elm Street
Montpelier, VT 05602
802-223-5333