Book Review: Serving Up the Harvest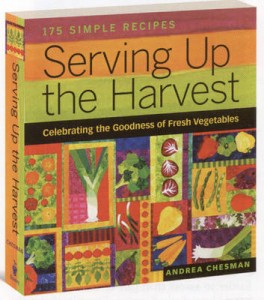 I love the gamble of gardening. Throwing the dice and hoping that you will get what you planted, the thrill of seeing your seedlings struggle to the surface and then thrive, yielding up so many meals through the season. A farming friend encourages me to have more "faith in a seed" and to be less surprised when my garden actually delivers according to plan.
This year was not an easy one for our garden, after years of success we were probably due for a less than productive year. Our CSA was full of incredible bounty, however, and we turned to embrace that weekly canvas bag of delights and decided to take a year off from gardening our own vegetables. Neighbors and friends brought over baskets of largesse and our fridge was stuffed with greenery and deliciousness all season long.
How fortunate we were to be reviewing Andrea Chesman's Serving Up The Harvest over this summer. You could pick almost any vegetable and somewhere inside this cookbook you would find a way to happily serve it up.
The book is divided into seasons: Spring into Summer, Early to Mid-Summer, Mid- to Late Summer and Fall into Winter. Within each is a profile of recipes using vegetables typical to that season, and a few master recipes such as pizza dough and pie crust as well.
Many of the recipes are vegetarian, but there are some exceptions – one of the master recipes, Basic Stir Fry, has a chicken option, and there is a Chicken Breast Nicoise, to name just a few.
The Summer Vegetable Bread Pudding was a beautiful dish, a golden browned mound rising out of the spring-form pan, bright flecks of carrot and red pepper scattered throughout, so fragrant in the kitchen and delicious too.
I've been a fan of chocolate zucchini cake since I was a little kid and my mother had to slip the green stuff past me in disguise. I knew the zucchini was there all along, but the chocolate just made it go down so much easier. Chesman's Dark Chocolate-Zucchini Bundt Cake is exactly what I remember, and we even successfully experimented with making mini-bundts for the freezer.
The Red-Cooked Cabbage is one of those cabbage dishes that I have trouble stopping myself from eating. With a distinctly Asian (and addictive) flavor profile, I came to my senses halfway through and realized with a start how much I had consumed. But, it's good for me, right? It's cabbage, after all.
So go ahead, pick a vegetable, any vegetable, and with Andrea Chesman's cookbook, odds are good your gamble will be rewarded.